Sonlight's Diamonds And Furs "Coaty"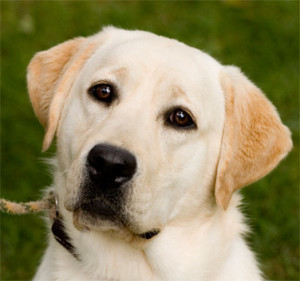 Coaty's a really special girl, born in the kitchen of our home along with her other brothers and sisters, among them Zeke, Sonlight's National Treasure, JH.  OFA Good Hips, Elbows Clear, EIC Normal, Optigen by parentage and colored heart doppler normal. She's been an excellent pet, great with kids and other dogs and a wonderful mother.  She had her last litter on February 12, 2014 by emergency C-section.  With the first two puppies caught in the birth canal, we lost 4 of the 7 that first day.  The other 3 have done exceedingly well and we will miss them as they go to their forever homes.  Coaty is now retired and will be moving to her forever home next week.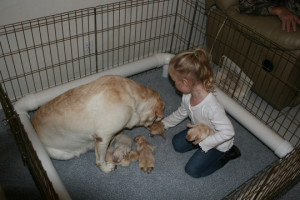 Coaty is what you want in a companion, healthy, great temperament and is a good representation of the breed.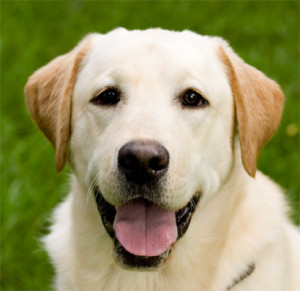 Zeke Loves His Birds
Zeke, has OFA Good Hips, Elbows Clear, EIC Normal, Optigen by parentage, and his eyes were cleared at our annual CERF Eye Clinic that we hosted, on Aug 16, 2010. He completed his Junior Hunter title with great style at the WLRC Hunt Test in August. His love of the birds was demonstrated when his first water bird (in a down pour) a live kill, had to be "sloosed" or shot on the water. After being released by the judge to retrieve his bird, Zeke got about 15 feet into the water when the bird righted itself. Zeke swam to it and took about 5 attempts at retrieving it, each time the bird diving just before he could get him. On the last attempt the bird surfaced behind his head and Zeke swam full circle, unable to see him and then went for the opposite shore. At that point the judge called a "no bird" meaning this was an unfair test, and told me to call Zeke back for a restart. I knew if Zeke saw the duck he would not come back without it and told the judge so, and sure enough, as soon as he hit the shore, turned and saw him, back in he went! This time Zeke just kept at it until after about 4 or 5 more times he grabbed him. The gallery went nuts, I went nuts and the judge said that if he could give him a 20 for perseverance (only a 10 is possible) he certainly would. People came up to us afterward saying they had never seen such a great demonstration of perseverance in all their hunt test or hunting history.
ZEKE AND COATY'S ANIMAL PLANET DÉBUT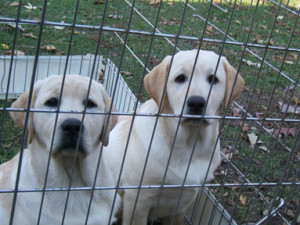 Zeke is on the left and Coaty on the right.  They are in our 4′ X 4′ pen that we took with us for the shoot.  Both Zeke and Coaty are from our last DJ and Marty litter.
The episode of Animal Witness that Zeke and Coaty are in is a reenactment of two Columbian Police officers breaking up a drug cartel using 16 week old pedigree puppies to smuggle drugs.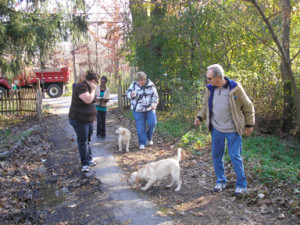 We arrive bright and early on this November morning in Palos Hills, Illinois to take part in the reenactment. The video production company has hired a professional trainer and leased this farm for the shooting.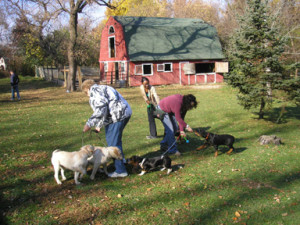 Zeke, Coaty and the other 6 puppies worked very hard that day! The reenactment tells the story of two police officers that halt a smuggling operation where an incision was made with local anesthetic only, and condoms filled with heroin were stuffed into the puppies body cavity.  Once the puppies reached their destination in another country, no concern was taken to preserve the puppy's
life. On a brighter note, the puppies that did survive have become narc dogs.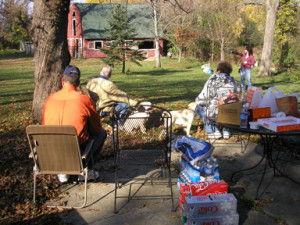 As with many things worthwhile we would hurry up and wait.  Here we are waiting (and eating of course!!!)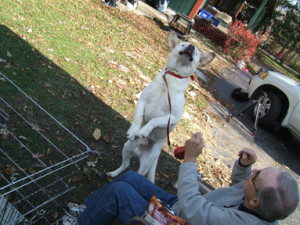 Stormy had to prepare for his last CD (Companion Dog) leg in a week, so he joined us at the shoot so he could practice with the distractions of a different area. Sue ran him through his paces during the lunch break.  Garry enjoyed playing with him to pass the time.  Stormy loves to catch "cookies" (our name for any kind of edible treat.) He rarely ever misses!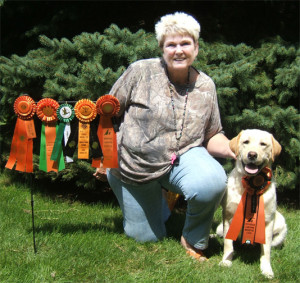 Zeke's JH and WC Ribbons, included the BAR Title Ribbon.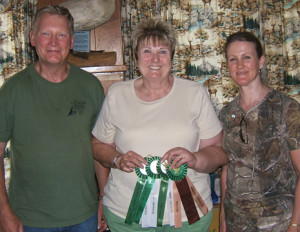 WC Ribbons from the July 11th WLRC Working Certificate at Rochelle Conservation Area judged by Gary Carlson and Joy Richardson.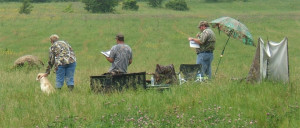 Zeke working in Madison on his land series.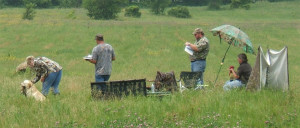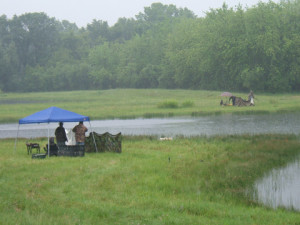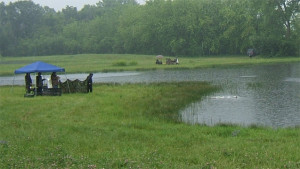 Water series was in the rain, as if Zeke really cared!  All he wants is his bird!
Receiving the ribbon for either Rocky or Zeke's JH passes.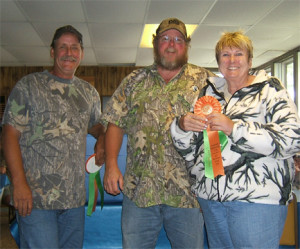 Pass number 2 for the "Zeke"!!!!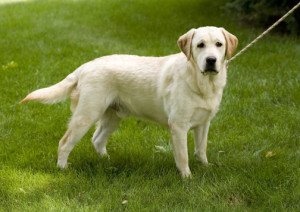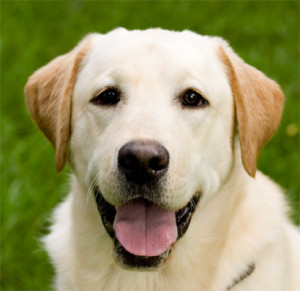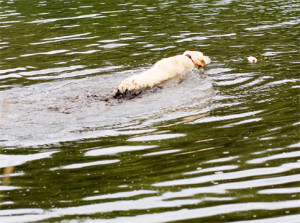 In or out of the water, Zeke's a really great guy.  He is force fetched and turning out to be actually better than we thought conformation wise. He received his first JH pass at the October 12, 2009 Hunter Test at the LRC Nationals.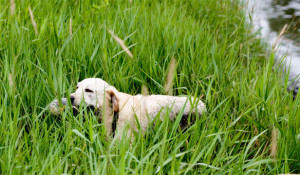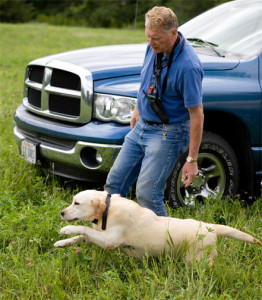 Our friend Gary Carlson working Zeke at the training ground with our grandkids helping!!
September 2009, here's a cute video of Zeke (on the right) and Joy playing with their favorite toy (besides "birds)", the Egge! http://www.youtube.com/watch?v=kNZf3I796cQ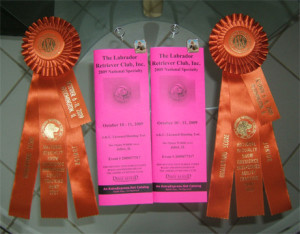 October 11, 2009 Both Zeke and Gus earned a Junior Hunter Leg at the Labrador Retriever Club National Specialty.  Here's a VIDEO from my cell phone: http://www.youtube.com/watch?v=t1biBuic5Yk
Thursday, December 2, 2010 we met our friends Earl Thomas and Victoria Lunebach at Jim and Brenda's place to train.  Here's a video of Zeke after Earl worked with him over the Thanksgiving week while we enjoyed a wonderful holiday with both kids, their spouses and all 5 grandkids.  It doesn't get any better than that!  http://www.youtube.com/watch?v=9nhSE99-3vM