SONLIGHT LABRADOR RETRIEVERS PROUDLY PRESENTS
AKC LABRADOR RETRIEVER CHAMPION/MASTER HUNTER #56
 CH U-GRCH UH HR Sonlight's Nachusa Storm Chaser WC, AWC, JH, SH, MH
Co-owned and Bred by Sonlight Labrador Retrievers
What a thrill to watch Earl Thomas take Bella from the whelping box to this HUGE accomplishment.  Earl has done everything you could ask of a co-owner, trainer and especially a friend. This accomplishment is even more outstanding because of the 56 Labrador Retrievers to earn these two titles, only 10 are females!!  On May 6, 2017 Bella's daughter Tori "Nachusa's Smokin' Hot Citori" became the second of two litter mates to earn the title Master Hunter.  Tori's huge accomplishment was preceded by her sister Cricket "Nachusa's Night Song Of The Prairie".  Only 4 females Labs out of 10 in AKC's history to earn both Champion and Master Hunter titles have gone on to produce multiple Master Hunters from the same litter. Bella joins an elite group of bitches that produced beautiful working dogs…a true representation of the breed.
                                                                                                                                                                                                                                                                Champion Mayflower Sand Castle, WC, aka Castle, our newest champion, finished his championship in September 2013. We're so proud of our boy who not only got 3 majors (2 required) he got them back to back to back! Beautiful, loves field work and has an outstanding temperament.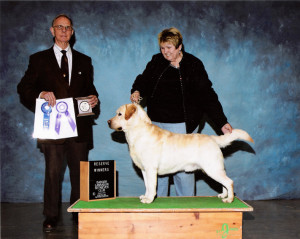 CH Sonlight's Go For The Gusto, JH, CGC.   Gus finished his championship on January 8, 2012 with his third major (only two are required).  He also earned his Canine Good Citizen award June 16th at the WLRC Specialty.  Although both photos are Gus, the photo on the right is his last major and he was out of coat!  He's a beautiful boy and wonderful temperament!
                                                     CH Sonlight's Snow Storm, CD, CGC, TDI.  On the left is Stormy winning a Group 3 (Third Place in the Sporting Group) in Millwaukee.  On the right is Stormy winning Winners Dog and Best of Winners at the Twin City LRC Specialty.   Such a beautiful boy and the best temperament!
                                                                                                                                                                                                                                                                                                                                                                                                                                                                                                                                                                                                                                                                                                                                                                                                                                                                                                                   Beautiful dogs working!
                                                                                                                                                                                                                                                                                                                                                                                                                                                                                                                                                                                                                                                                                                                     We love our Labs! Is there a better breed on earth?  We don't think so, and statistically there are 7 times more Labs registered with the AKC than the second most popular breed!  And why not…..friendly and loving, hard working in the ring and in the field.  At Sonlight Labrador Retrievers we work toward breeding the perfect Lab.  Just right for you and your family. Come on in and see what we mean!
Our Mission
At Sonlight Labrador Retrievers, we love Labs!  Over the past 45 years we have competed with, lived with and thoroughly enjoyed our dogs.  We believe our animals should be beautiful, intelligent, loving and a great companion.  We breed toward the best genetically sound animals possible. Our motto and philosophy is:  Beauty & Brains, A Winning Combination!
Our Profile
Over the past 45 years, it has been our pleasure to participate in obedience, field and conformation.  We have produced approximately 45 litters of puppies with various degrees and titles.  Our greatest joy is to match a puppy with the owner he or she deserves.  Whether it's for work or play, we believe every puppy has a soul mate just waiting to love and appreciate it. We are active members of Forest City Dog Training Club, Winnebago Labrador Retriever Club and Rock River Retrievers.   Sue is a retired instructor of obedience classes for FCDTC.
Contact Information
We want to hear from you!  Our Rockford, Illinois central location and easy accessibility has made it the meeting place for Winnebago Labrador Retriever Club, with members from a 5 state area.  We are 63 miles directly west of Chicago's O'Hare airport.  We're always available on the web via email.  Or just pick up the phone and call us.  It is our pleasure to answer any of your questions concerning our dogs.
Telephone:  815-633-4366
Electronic Mail:  info@sonlightlabs.com
Webmaster: sue@sonlightlabs.com